Home | News | Message Board | Trading Post | HazardKentucky.com
Remembering George Davis, The Singing Miner

Click here to listen to the Singing Miner
Singing Miner welcome #1 Singing Miner welcome #2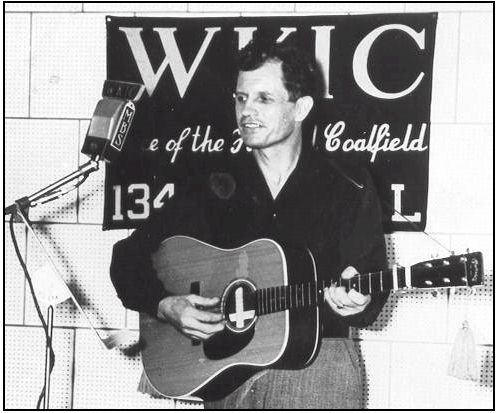 George Davis, known as "The Singing Miner" to many East Kentucky residents, was one of the most popular personalities ever heard on WKIC and WSGS. He sang songs he composed and worked as a disc jockey on the radio stations in Hazard from 1947 until 1969. But first he was a coal miner, operating a coal-cutting machine from 1920 to 1949. Davis began singing and playing the guitar about 1933 when Eastern Kentucky coal mines were being organized by the United Mine Workers of America. He would practice on his front porch, and miners would gather around his home to listen. The Singing Miner went on to hold shows at schools, theaters and anywhere he could get an audience. Among the songs Davis wrote and sang were "White Shotgun," "Buggerman in the Bushes," "Coal Miner's Boogie," "When Kentucky Had No Union Men," and "Harlan County Blues." One of his albums was recommended by Billboard Magazine. Davis began his career at WKIC with 15 minute shows sponsored by various local businesses. At one time he had five shows a day. "I never do brag, I never do boast, I sing my songs from coast to coast...I'm the Singing Miner on WKIC," were some of the words of his radio theme song. Ernest Sparkman with WSGS and WKIC recalled a murder trial in the 1950s in which the prosecutor asked a witness what time the crime occurred. She replied that she couldn't remember exactly, but that the Singing Miner was just going off the radio. "Lady, you ain't told me nothin'. Any time you turn your radio on The Singing Miner is either coming on or going off," Sparkman recalled the attorney saying. "He was one of the first people to write and sing jingles that I ever knew - certainly the first on this radio station. Back in his day he was the most popular person we had on this station," Sparkman said. Davis retired from broadcasting in 1969 and lived out his life in London, Kentucky. Davis lived to be 88 years old. He died in 1992. George's D28 Martin Guitar that he played from 1947 until 1992 will be displayed in the new studios of WKIC and WSGS on Main Street in Hazard.

"I remember listening to him on the radio when I came home for lunch. He sang on the street at the little grocery store on Main Street. Brings back a lot of memories. I have great memories of Hazard and Walkertown." Donna B. Combs
"I lived in Hazard from 1939 until 1948. Hazard got a radio station and an airport at about the same time, so we thought we had hit the big time. The Singing Miner was on the air about then so Hazard even had a big-time radio star. I remember seeing him on the street in front of my father's store (Julian's Department Store). There was a store down Main Street that had an outside speaker that played when the Singing Miner was on the air." Howard Murrill, Lenoir City, TN
"I worked at WKIC from April 1948 to October of 1949 and I knew George about as well as anyone at WKIC. He was extremely popular and always drew a crowd at the studios. At that time we were located in the basement of the Peoples Bank building. In George's theme song there was a line that went something about just have chicken and I'll drop in. One day a woman brought in a chicken in a burlap bag. Jerry Leighton, one of the other announcers, found out about it and as George was singing the hymn of the day he took the bag and the live chicken into the studio. Jerry took it out of the bag and threw it up in the air and then proceeded to chase it around the studio ...everyone but George thought it very funny. George kept singing but he would have killed Jerry if he hadn't have been on the air...Jerry left before George was off the air." Don Smith, Minneapolis, Minnesota
My entire childhood was wrapped around WKIC. I sing 'Boogerman in the Bushes' for my grandchildren, we learned about hadicol and the benefits of drinking good 'ol cabbage juice, and who can forget the poor ol woman who washed and washed until she broke her back.....the Singing Miner gave us all this. WKIC has been there all the way." Helen Chaney, Hazard, KY
"I remember George Davis, the Singing Miner saying, 'Don't ever race a train to the crossing. If you tie you lose.' I still use that saying. I remember listening to all the old cowboy shows in the head of Lick Branch hollow on an old battery radio. We had no electric. Those were the good old days. Hey Yancey Bowling, I remember you to." James Hughes, Fort Wayne, IN
WKIC was so much a part of my teen years. I sang daily with The Singing Miner." Ida Lee Hansel, Spartanburg SC
"Your name goes marching on. I remember the Singing Miner singing this when I was in school in Hazard in the '50's. Good memory." anonymous
"I grew up in Wooton, KY in Leslie County and I remember George Davis, the Singer Miner and Smith Maytag." Marion H Bailey Jr., Montalban Rizal Philippines
"I remember singing on WKIC, probably 1958-59. My sister and I sang gospel songs. George Davis was our emcee. Our program was on the air every day. Our show was called, 'The Caudill Sisters.' Our theme song was, 'I'll be somewhere listening for my name.' I remember Ernest Sparkman and the Singing Miner so well." Trena Caudill
"In 1952 and '53, I played on WKIC Radio with my brother and two friends. We were called the Hyden Hilltoppers. We later joined the Saturday Morning Jamboree, a two hour show with George Davis, the Singing Miner. We had lots of fun playing with George Davis. Those were the good old days I'll always remember." Dave Maggard, Ravenna, KY
"I remember when the FM radio station broadcasting power was increased to 50,000 watts. Everyone thought this to be a tremendous increase, that might even let you hear the radio by listening to barb-wire fences. I remember someone asked, 'Do you think we will get better reception?' And the reply was, 'We'll probably get the Singing Miner in living color.' Chuck Bianchi
"In the late 50's there was a show from WKIC with the Campbell Twins, (I. B. & I.D.) on Saturday. Also we played from, I believe it was the Family Theater, on Saturday also. I don't remember what the program was called. Of course the Singing Miner was the MC. Boy I remember him well. Had a lot of fun with the ol boy." I. B. Campbell, (one of the Campbell twins)
"I was raised on Grapevine. I remember when I was very young Ernest Sparkman had a band that played a show at Mud-Lick School. A Banjo player by the name of Charles Luther Deaton played with him. Charles was my first cousin. In about 1951 or 52 I played music with George Davis and Dana and family. I know some of those programs was recorded I sure would like to hear some of them." Sebern Campbell, Eminence, In
"I remember WKIC and the Singing Miner singing Devil on the Hill." Doug Blair, Portland, TN
"I remember the Singing Miner singing the Boogerman in the Bushes and his lovely wife, Daisy singing about a Weeping Willow." Anonymous
"I am trying to locate a Recording made by George Davis, The Singing Miner, the song had words of 'Ten Little Devils climbing down the walls saying Take her back Daddy she's trying to kill us all.' I heard this song back in the late 50's when he had a Radio Show on the Station there in Hazard. I was born and raised in Letcher County. Please help me if you can. I wish there was something like this from Whitesburg." Rose
Something I will not forget - I drove the Singing Miner and a funeral owner up to Ohio one weekend. We were in the area of Jackson, Kentucky after night time and it started raining and then every one started to search for the wind shield wipers. It got scary for a minute. This was in the early 50's." Robert Red Williams
"I'm from Viper, now living in Florida. The Singing Miner was a friend of my mothers." Debbie Campbell
"Loved Sparkman and the Singing Miner back in the 50's. This website is a wonderful idea." Ted Fugate, Clinton. MD
Do you remember the Singing Miner? Share your comments with us.