Home | News | Message Board | Classifieds | HazardKentucky.com
East Kentucky Katrina Relief Project
Volunteers with the East Kentucky Katrina Relief Project recently returned from Pearlington, Mississippi where they delivered items to hurricane victims. This was the group's 3rd trip to the Gulf Region.
---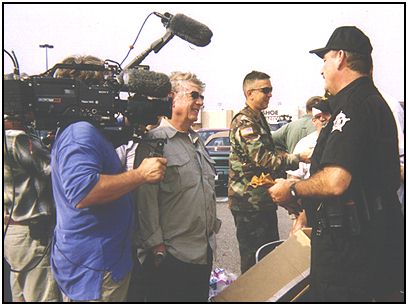 Ted Koppel focused on East Kentucky's generosity in New Orleans on ABC's Nightline

Watch Nightline with Ted Koppell

WSGS Reports On Desperate Situation In New Orleans
This page have been viewed 6,212 times. The Nightline audio has been accessed 4,133 times. You have watched the Nightline video from WSGS.com 2,403 times

"It wasn't because of one person but a group of people that made this happen. Sue Dunsil and her boyfriend (Chico) Robert May were watching tv like all of us and wanted to do something. Chico is a truck driver with his own truck (Nighttraine). He talked to Kay (who is Kim Sparkmans sister) and she called Kim who also wanted to do something to help. So between Sue, Kim, Chico,the ball started rolling. Before you know it people were donating trucks, drivers, money, supplies. I haven't gotten a complete list of the people who went on the first trip, but as soon as I do, I will post it. Thanks to all these people, and the others who are still donating time, money and supplies. May God Bless." Anonymous, Hazard, KY
---
Response from WSGS.com
WSGS was involved with the East Kentucky Katrina Relief Project from its' inception. The following is the turn of events that led up to the 1st trip to the Gulf Coast:
Wednesday, August 31, 2005 - After watching the evening news, Kim (Sparkman) decides to take the Silk Purse box truck to New Orleans to deliver water to the Super Dome. Her husband and son agree to accompany her.
Thursday, September 1, 2005 (early morning) - Kim calls Trish Adams at WSGS to have her announce that a truck will be taking water to New Orleans. Trish announces that donations of water will be accepted at WSGS and Silk Purse. Almost immediately, people start donating water.
Thursday, September 1, 2005 (early afternoon) – Glenna Bentley (at WSGS) calls Kim and suggests that she should make sure she will be able to get a truck into New Orleans. Kim calls the Hazard National Guard, speaks to Ron Brown, and is told to call Steve Ogelsby with Emergency Management in Frankfort. Kim speaks to Steve and is told not to take water to New Orleans because it is not needed and she will not be able to get past the Mississippi State Line. For an hour or so it looks as if there will not be a trip to New Orleans.
Thursday, September 1, 2005 (late afternoon) - Randy Poff, with the Perry County Sheriff's Office, calls Kim at Silk Purse and says that he heard she was trying to get water to New Orleans. Kim tells Randy what Steve Ogelsby told her and Randy explains that he has a fax from the Jefferson Parish's Sheriff's Department stating that they are desperate for water and other supplies. He also tells Kim that he can escort her to New Orleans so she can give out water. Kim and Randy agree to meet Friday morning to go on the air on WSGS and ask for donations of water and other supplies.
Thursday, September 1, 2005 (early evening) - Kay Campbell, Kim's sister, calls Kim to let her know that Sue Dunsil and her boyfriend, Robert May (Chico), also wanted to help the victims of Katrina. Kim calls Sue and meets with her and Chico later that evening. It is agreed that Nighttrain Enterprises will take the water and supplies to New Orleans.
Friday, September 2, 2005 (mid-morning) - Randy Poff, Sheriff Pat Wooten, and Kim go on the Faron and Bob Show on WSGS and explain their plans to take water, food, and other supplies to New Orleans. Immediately people start donating money, water and supplies. Several drivers call wanting to volunteer including John Mize from Sam Godsey Trucking. Shortly thereafter, Jerry Wells, from Artesian 3300, called and donated a driver, tractor, fuel, and trailer full of water from his company in Virginia. By the time the radio program is over, the donations start pouring in and continue throughout the day and evening. At 2 AM – the last donation is taken from the Wal-Mart parking lot and a total of 2 trailers and 1 box truck are nearly fully loaded.
Saturday, September 2, 2005 Donations continue to be taken at Wal-Mart and by 5 PM - 2 trailers and 1 box truck are fully loaded and ready to leave. James Johnson (Skinner) from Artesian 3300 is already in Knoxville, TN, waiting on the convoy. By 8PM that evening, all 3 trailers and 1 box truck begin their journey to New Orleans. Leading the convoy is the Perry County Sheriff's Department. The drivers are: Randy Poff and Jay VanVranken from the Perry County Sheriff's Department, Robert May (Chico) from Nighttrain Enterprises, pulling a trailer provided by Doug Hensley, John Mize from Sam Godsey Trucking, pulling a Hazard Express trailer, James Johnson (Skinner) from Artesian 3300, and Kim Sparkman driving the Silk Purse box truck. The other volunteers are: Glenna Bentley and Paula Campbell from WSGS, Sue Dunsil from Nighttrain Enterprises, and Autumn Brueckner.
So yes, it was indeed a group effort to get the water and supplies to New Orleans.

No one has ever suggested otherwise.

And we must not forget that were it not for the generosity of the people of Eastern Kentucky, there would have not been any water and supplies to take to New Orleans in the first place.

---
"I have to say I didn't watch much of the news when New Orleans and other parts were hit. When I watch the news episode with Ted Koppel, it brought tears to my eyes. Its nice to know that people here in the mountains can give so much when they don't have much for themselves, makes you proud to be from here." Vanessa, Hazard, KY
---
"My faith has been tested many times since I left my roots in Hazard, Kentucky. But because of having the influence of the people there, their strong Christian faith, and desire to do good towards their fellowman, so far most of my 'instant decisions' have been good ones. If the world could just have the heart that the people of Hazard have, what a better place we would be living in. Thank you, my great hometown of Hazard, for helping the Katrina victims!" Donna Lawson Glenn, Middleburg, Florida
---
"It was awesome to see the impact of the responses for the Hurricane. I just wanted to say To you, that has made me proud to say that I am from Hazard, Kentucky and that I had the opportunity to spend the last year with you guys at the radio station. It was dream come true to meet you guys and work with you everyday. I miss you all (Stuart Shane, Faron, Glenna, Bob, Paula, 'Big D' ,Mike, and Scott). It is an honor to be from Hazard, and definitely something to be proud of. Just a few days ago I had to do a presentation in class, because many people do not understand us Mountain people. The biggest thing I used was the Audio clip from NIGHT LINE. So keep up the great work and I will be in from time to time to help you guys out. Just because I'm not there in the flesh, doesn't mean I'm not there...I will always be there in spirit, you never know I might just come down them steps any time!" Mikey Moore, Hazard, Ky, (Richmond)
---
"It is a great feeling to hear how the folks in Hazard has help those in need. I live in Central Florida and last year with all the storms I know a little about how these folks feel. We did not evacuate and separate from family member, but is sure a heart breaker to see what these folks are going through. I have contributed as I could to help. My son left October 1st, with his truck full along with 9 other men to help out where they could for a week. Hazard should be put on bigger map to show just how these people care for each other as well as strangers. I was born and raised in Perry County." Anonymous
---

"Good luck to the caravan going back to the gulf coast, hope we don't have to have one visit here, I live in Galveston county and we are being evacuated, we are all praying for the people on the coast, we have had enough weather this year." anonymous
---
"We here in Michigan who are from Hazard are not at all surprised at the reaction of some of the finest folks in the good old USA. Born in Hazard, moved to Michigan in 1948, but my heart remains there, May the Good Lord bless U-ALL." Roy Everett Couch, Ann Arbor, Michigan
---
Greetings people of Hazard, I'm not sure when I saw your goods arrive down here on TV or where they went, but thanks for sending us the stuff. These three weeks in a cheesey hotel all seem to run together. I got home today and I have lights, cable and internet. And a note I put down in my notebook that say's to thank 'one woman,' that got the ball rolling up there. It's amazing and great when one of the poorest areas of the country can open their hearts to another of the poorest area of the country. Your package came several days before FEMA. Thanks again, a grateful Buddhist, down south."
---
"You do yourself proud. I wonder if we would do as well. So keep up the good example. There are a lot of bad examples in this world. My best to all of you." Tom Feron, Eugene, Oregon
---
"Sure am proud of all the people from Hazard, Christopher & the whole area." Bob Thompson, Paris, TN
---

"Having been born in Perry County, but living most of my life in Texas. My chest swelled with pride to see the people of Perry County being on the giving end. I was watching Nightline after the local news when a promo mentioned Hazard KY. Quite frankly Hazard doesn't create a large splash in world news. I immediately picked up on this and began to watch. I have relatives in West Virginia, I e-mailed a synopsis of the news report to her. She obtained a copy of the original release from ABC news. It has been forwarded around the world. Keep up the good work. God Bless." Jack Caudill
---
"WOW!!!! That's all I can say. I grew up in Hazard and I know first hand how loving and giving the people of Hazard and Eastern Kentucky are. Perhaps now the rest of the country will see as well." anonymous
---
"God bless you all in Hazard Kentucky! My son and his family live in Hazard Ky. What a wonderful jobyou have done and are still doing! I too think Kim Sparkman should run FEMA." Earl and Nancy Potter, South Glens Falls, NY
---
"I was born and raised in Hazard, and when I saw this news about our little town I wasn't surprised at all. The people there are the kindest, most compassionate people that I have ever met. They have always been ready to help anyone in need. I am proud to tell anyone that I am from Hazard. Just would like to say thank you to all that put this together, as always, another group of great people. May God be with everyone from that community." Judy Combs, Round Lake, Illinois
---
"God Bless All Of You!!!! I am from Knott County. I'm now living in SA, Texas. I have always been proud of the people of Eastern Kentucky but never more than now. As you know we are housing a lot of the evacuees right here in SA at Kelly AFB so it really makes me proud to say I'm from Eastern Ky. Thanks to all of you and again God Bless!!" Sandy Davis, San Antono TX
---
"I can honestly say I am proud of the fact that I come from Viper (Perry County) Kentucky. It's made me strong . And I value the rights of others because of that one fact. Love you all." Joe D. Griffith, Lakeland Florida
---
"As a native of Eastern KY, I am glad to see some positive press coverage for the mountain area. Thanks to this community for their love, faith, compassion and generosity. May God continue to bless you and yours, for you are truly a blessing to others." Wendy in Lexington, KY
---
"I just wanted to say that while watching the nightline segment Monday night, the sense of pride I felt for my community was phenomenal!! It's about time that we see something in the media regarding Hazard in a positive light. Too many times in the past have we witnessed Hazard and Perry County portrayed in a less than flattering manor. This was definitely a welcomed change. I'm honored to have friends dedicated to such a worthy cause. As for Mrs. Sparkman, your silence when asked your name by Mr. Koppel, spoke volumes about your character. You, as well as all the volunteers from the Sheriff Deputies to the Truck drivers and others, are to be commended! Thank you for everything!" Kevin Duff, Wabaco, KY
---
"I did not see the Nightline edition, but a relative sent me the article. My mom was born in the Glowmar/Hazard area, went to Hindman High, and lived around Lick Branch. My great uncle - Ishmael Stacy owns a gas station in Hazard. Inspite of my not being back there in too many years I still know how good hearted the people of Kentucky are. They are quiet and keep to their families, but if anyone needs a hand they are not afraid to roll up their sleeves. I believe it is because they believe God will make us all accountable for the things we do or do not do in this life. As we say in Genealogy, if you are from S.E. Kentucky, you are related I am proud of my Kentucky family. Mitch Bradley, Las Vegas/Green Valley
---
"Isn't this the same town that Paul Harvey, radio commentator, gave a report about a group of Hazard school children who were ordered to 'shut up' because they were moved to sing patriotic songs in our nation's capitol, Washington, D.C.? They just don't ever give up on showing the world what true Americans are!! God Bless the people of eastern Kentucky. John in Liberty, KY
Click here to listen to Paul Harvey's story on Hazard, Kentucky from 1980
---
"I think now that the nation has seen what one little town in the hills of eastern Kentucky can do, we need to challenge all the little towns across the nation to step up to the challenge! Our sister city Hazard, Nebraska you can do it too! Let all the little towns and communities across the country come together and show this nation that it truly isn't 'the size of the dog in the fight, but the fight in the dog!' Our brothers and sisters in Iraq and Afghanistan and all around the world deserve to know that in their absence we as Americans will stand up and support and defend all the things that they do. Now that I have put it out there let's see what the little people can do! Lets show those people in the White House that you don't have to wear a hundred dollar suit or drive a fancy car to make a difference! And in closing let them say this town is a 'pillville', let them say we are poor, let them say we are stupid! When the citizens of this town wake up tomorrow they are not going to worry about all that, we can read just fine, we read the bible and that's what matters, we are experts in moving mountains, been doing it for years, and lastly we are experts at showing love and compassion, why? Because for some of us that's all we have....GIT ER DONE HAZARD!" Jeff in Hazard/Perry County
---
"Many years ago I was fortunate to have lived in Hazard for just over two years. That was long enough to see the wonderful qualities of the people. I was pleased, but not surprised, to see that your community was among the first in the nation to respond to the needs of the victims of Hurricane Katrina. As a soldier I also saw young men and women among the first to volunteer for military service when our country needed them. They not only enlisted, they served their country honorably. I was an Army and Air Force Recruiter in Hazard, and our office met its quota of volunteers every month I served in Perry County. That was a long time ago, and four wars ago, but your honor and dedication to your country is just as strong today as it was those many years ago. I am proud to have been part of your community, even for such a short time." Carl Sumner, Woodford County, KY
---
"Not only do we have a vacant WALMART building but we also have a large SIKES (SP) building that would also hold a lot of victims of Katrina. Hazard come to the rescue and open up the old buildings. Lets not only help with food and water and so on, but with shelter. They open the air post up and are starting to transport people out of Louisiana, not is the time to show what the people of hazard really is. MAYOR GORMAN, CITY COMM.,AND EVEN KIM SPARKMAN, COME to the folks aid, we know you can do it." Joe in Hazard
---
"I've always been proud of my roots. I've always loved the fact I was from Eastern Kentucky even though most people thought it unfortunate. But after hearing this broadcast, my blood runs thicker with pride for my hometown and my prayers run longer for those affected by this disaster. Thank you Hazard for all that you've become. I'm proud to call it home. Keep the prayers coming." Brittani in Lexington, KY
---
"I was raised in Hazard and I feel very blessed to tell people where I was raised. God Bless everyone the was involved." Brian Danner, Brooksville, FL
---
"I am proud to be from Hazard, Ky. When we need to come together we are always there for people and do what we can. My department where I work took up money and bought stuff for the victims. It wasn't a large amount but I am sure that it helped out a lot. It just makes me feel so good knowing that we had a part in it. It is better to give than to receive. Thanks Hazard for all you have done." anonymous in Hazard
---
"I think this is great & wish I could be a physical part of it. I have donated but feel that's not enough. Thanks to all the police force & military helping. Mary Brinson, Hillsboro, OH
---
"This does not surprise me one bit as Hazard and Perry Contains have helped in every disaster so far. Just the same kind and loving people who always rise to the occasion!! Glad the area is finally getting the press it so richly deserves." Phyllis in Oak Ridge, TN
---
"I spoke to Glenna at WSGS yesterday and went online to your site this morning. I hope that in the near future I can listen online to your entire show format throughout the day when I have the occasion to be home. Please pass along to Shirlene Taylor and everyone who is connected with the relief drive that I was very impressed by everyone I came into contact with yesterday. Also please extend to the Sheriff and his department for a job well done and let him know that he has some dedicated officers in his group. I told Shirlene yesterday that this was the hardest time I had ever had to give away money, but it finally worked out. Thanks to all of you." John Wayne Turner, Versailles, KY
---
"My husband was from Combs, KY, a short distance from Hazard. Those people in the hills stand proud and brave." Cinda Deaton, Myrtle Beach, SC
---
"I have emailed friends from across the country so they can hear the Nightline report. Many of them don't hear much good news from home and this is the best ever!" anonymous
---
Hats off to you all
"Dear Hazard Kentucky, I just wanted to send a 'Thank You' from Valencia California for all your efforts in getting aid to those in need. I just saw the story on "ABC's Night Line" and was very touched by your extreme generosity. I have already donated to the Red Cross and Salvation Army but your story has inspired my to give even more. Thanks for being a great American town!" Ray in Valencia, California.
---
To the People of Hazard, KY.....Thanks!
"Watching Nightline on ABC Monday evening, I was truly moved by the inspiration of a town which I have never heard of. Inspired by hundreds (or perhaps more) who rose up and gave to those in desperation, due to the massive destruction of Hurricane Katrina.

Being equally distant to all of the destruction, many here in S. Florida are also giving money and donations to the cause. In a peculiar way though, many here feel obliged. Perhaps our good fortune due to a booming economy, or maybe having been badly impacted by recent hurricanes ourselves. So when I hear about a small Kentucky coal town, perhaps far richer in heritage and true American Spirit than material wealth; and such a town giving truckloads of food, clothes, the trucks, gas and manpower to help others in need..........that's inspiring. All of us give from time to time. Some, because as Americans, our Commander and Chief so requires it. Others, quite simply because our job dictates it. Perhaps the grit and compassion of real hero's, come from the purely unsolicited rise of good people. For here, there is no reward or gain, just pure compassion for fellow humanity.

At the conclusion of this evenings edition of Nightline, the show concluded by Ted Koppel indicating that the town of Hazard, KY was already preparing a second "convoy". Citizens of Hazard, be proud for not what you have, but for what you have given." Anonymous
---
Discovered another Great Community after viewing Nightline!
On behalf of our Louisiana citizens in this time of tragedy, I want to express a sincere 'Thank You' to the Great Americans from Hazard, Kentucky who contributed and shared both time and necessities to the relief of our state. Small communities such as your own brings out the best in people in time of need----your community is truly a role model for the rest of the world! God Bless the people of Hazard, Kentucky and God Bless America." Mark L. Daigle, Baton Rouge, Louisiana
---
"Want to donate to the Hazard City volunteers who are taking relief supplies to the Katrina victims. To whom to I address any donations? I do not want to send money to the Red Cross/Salvation Army/other organizations because so much of the money is wasted in administrative fees and your citizens know what is necessary to help their neighbors to the south and do so without government or organizational assistance. This should be helped and/or supported! Can you put me in touch with the people or persons to send donations to which will go directly to relief supplies? Thank you, in advance for your prompt response to my inquiry." Moiece Palladino, San Francisco, CA
Donations can be made to: East Kentucky Katrina Relief Project C/O WSGS, Main Street, Hazard, Kentucky 41701
---
"I disagree about the organizers later being recognized or honored. Surely they did this out of heartfelt reasons, just as those who gave did. Matthew 6:2 says when you give to the needy do not announce it in the streets to be honored by men, you have already received your reward. I'm sure the organizers and truck drivers got a blessing from doing this good deed, as did those of us who donated." anonymous, Jeff, KY
The volunteers have asked for no recognition
---
"I am not surprised at all that the little mountain community has been so generous. I grew up in the vicinity of Hazard. The world has seen that we are not a backward or ignorant people. We are a generous and proud people and now the world knows. Dottie B., Louisville, KY
---
"I'm glad to know that in this country we have people so caring, thoughtful and loving as the people of Hazard Kentucky. God Bless YOU!" Wallace Beneway, Wappingers Falls, NY
---
"What a great tribute to a great part of Kentucky!! I grew up a bit east of Hazard in Letcher County and I think I understand how the people in Hazard feel and how they want to help when someone is hurting." Burton Arnett, Pendleton, SC
---
"I am from Hazard. people always comment on how poor Hazard is. They base this on money but the people are rich there in kindness and goodness. Some towns can't say that. Yeah for Hazard." Peggy in Louisville, KY
---
"I was born in Knott County Kentucky at Carr Creek about 20 miles from Hazard and I know the people in that area are the best at giving. My wife Janie Dix Adams was raised in Hazard. You have made the nation proud and I thank you for that." Jack Adams, Louisville, KY
---
"I am very proud to learn of the generosity of the folks in Hazard and surrounding areas who have shown such a great compassion for those in need. I was raised in southeastern Kentucky and graduated from Hazard High in 1959. I always look forward to returning home to Perry County every few years. God bless you all for sharing." Dave Newell, Lexington, Georgia
---
"The folks of Hazard have shown the nation how to do it up right!! I saw the report on Nightline and your thoughtful donations brought tears to my eyes. You folks are the living definition of what Americans should be....thank you from the rest of the nation also for setting such a fine example of compassion and hope." Maribeth in Chicago, Illinois

---
"What a great community -- I couldn't believe all the supplies and care you all send to the people of New Orleans. The icing on the cake was that you didn't want any credit, how the Hazard rep didn't want to give her name -- so awesome." Jessie Erickson, Chicago, IL
---

"I didn't see the Nightline program telling of your efforts in Louisiana but I received the link and have read about it this morning. I live in Prestonsburg (Floyd Co.) and am more than willing to donate to your next convoy. Could you tell me where to take the items and approximately when you will be going again? I will arrange to get some things over to you (I just broke my foot and can't come myself but really want to help in some way). Thanks!" Tish Clark

---
"I just wanted to express my thanks to everyone in Hazard and everywhere else that has given to the victims of this tragedy. I myself donated water and can goods and I know they need so much more and I will do anything else that I can to help. Keep up the hard work. My prayers go out to all the people who need our help in this time of need and also to the Hazard National Guard who were just sent down to help." National Guard wife, Hazard, KY
---
"I am so glad to see Hazard, Kentucky getting these praises, I am not from Hazard , but from a neighboring county . It does my heart good to know of all the generosity that Hazard has in their heart .The hillbilly people of Eastern Ky are among the finest I have ever met. I am so sorry for this tragedy in N.O , Ms, and the other areas that was hit by Katrina.. May GOD bless and God richly pour his blessings on a fine bunch from Eastern Ky. Hazard." anonymous
---
"I am so proud of our people right here in Hazard and Perry County. They have shown the true spirit of Sharing and giving. Their actions speak louder than words . Of course, they mean we love you and want to help you. At one time or another in our lives we all desperately need the help of another. Ours came in 1957 and 1963 when our region was flooded so badly. now it is our turn to help someone else. May God bless Ted Koppel for showing our compassion. May he hold WSGS and also Kim Sparkman in a special blessing or all they have done and are still doing. God bless the truck drivers and all the workers whatever they have done, I know they did it because they wanted to! It was just the right thing to do." Elizabeth Snyder Duncan, Hazard, KY
---
"Hello and Best Wishes to the caring and generous people of Hazard, Kentucky. I am deeply touched by your expression of compassion for the hurricane-ravaged residents of New Orleans. Your web site is the next best thing to visiting Hazard which I plan to do in the near future." Robert E. Butler, Jr.
---
"The folks in KY are some of the nicest in this great country. I have visited the state and the people and I love them all dearly. It doesn't surprise me what they have provided to the folks in LA. God Bless KY!" Bob Kennard, Clinton, MO
---
"I was born in Hazard, Kentucky and we moved to Ohio when I was six. I kept very close ties there since I have relatives still living in Hazard. My cousin just forwarded this news article to me since I did not see the broadcast. I remember the flood of '57 there, as we were visiting my grandparents. We traveled through some pretty high water to get 'home' and were aided by some great people who towed our car through Jackson. What my hometown has done for the people who were devastated by Hurricane Katrina has touched my heart and soul. I always knew these folks were special and their generosity and kind hearts has once again given Hazard something wonderful to be proud of. All my blessings to my very special hometown." Jan Barbour, Lebanon, Ohio
---
"I too was born and raised around Hazard, Ky. Nothing can begin to tell you the pride that I felt inside. This is caring from deep in the hearts and souls for other people no matter where they are. My 'Roots' make me proud. People in Kentucky come together when there is a need, they always have. God Bless each and everyone." Cordella in Florida
---
"I really want to say thanks to the Hazard/Perry County community for banding together and helping out those in need down here in La. As a native Louisianan, and a former citizen of Perry Co. (Krypton) for about six years, I am really glad, and not at all surprised to see this being done by the folks in Hazard. It is another reason I miss living there; the kind, loving, and caring people. God Bless you all. I can't wait to make it back to the mountains of Kentucky to see you. Thanks." Ricky Westman - Baton Rouge, La.
---
"I would like to nominate Kim Sparkman as the next head of FEMA!" Anne Mitchell Gilbert, Hazard, Ky
---
"I am so proud of the crew of compassionate people who loaded up and took the 'family table' into the land of devastation. May God bless this bunch of caring Eastern Kentucky people whose tireless efforts have circled the globe. The people in my hometown of Hazard Ky has caught the eye of the world and I am so proud to say that I was born and reared in Hazard. I always knew we were a special breed of people, full of love, compassion for one another. That was instilled in us as we grew from childhood to adults, and we saw many hardships along the way but we never went hungry. The 'family table' was always set for extras. Sharing was our way of life and now they have put wheels on the family table to feed those that are in need. Bless the people of Hazard, and their spirit and compassion will continue to spread. We Hazardites always knew what we were made of and now the world knows!!" Ida Lee Hansel, Spartanburg SC
---
"After years of travel being from Hazard I have told people through life how rich the people from Hazard really are. It's not a wealth that can be weighed on the value of the almighty dollar nor a wealth that can be purchased with the almighty dollar. I was more so impressed and proud that you were there helping people when the news came upon you. You make me proud and show class and style. As I have always known, you show the world true riches unknown to the dollar. My people Eastern Ky." anonymous in Florida
---
"I am truly proud to live in Hazard. As others have said, it was inspiring to see Hazard, Perry County and our great state of Kentucky portrayed in such a giving, thoughtful way. Thanks to WSGS and the Perry County Sheriff's Dept for organizing this in such a expeditious manner and with great efficiency. Good Job! Everyone now knows that Hazard and Perry Countians are very generous and caring people. Thanks to all involved!" Anonymous in Hazard
---
"Greetings from your sister city of Hazard, Nebraska. Some of us out here caught the Nightline broadcast and were very inspired by the report of your volunteers collecting and sending the hurricane victims food, various canned goods, and baby supplies. Great job Hazard, we wish you all the best." Steve in Hazard, Nebraska
---
"We heard in Arkansas about the great effort your town has made in helping the stricken folks in the Gulf region. We salute your town! What a great place your town must be to live in. Thanks so much for all your assistance to our friends to the south of us. WOW! What an effort to put all that together in such a short time! God bless Hazard, Kentucky and all her fine people." Kenneth Pelfrey in Arkansas
---
"After hearing this, I was moved to tears. The people of Hazard are just as wonderful, caring and generous as they always have been. I am so proud of my hometown and the way they pull together to help those in the Gulf - especially when so many of those helping are in need themselves. God bless and keep Hazard always!" Linda Williams, Lexington, KY
---
"This warms my heart. My father was born and raised in Hazard, Kentucky and my relatives live there still. I would imagine many sacrifices were made in order to help the people in the Gulf Coast. Many thanks to the good people of Hazard!!!!" Jennifer Reynolds in California
---
"Dear Residents of Hazard, Ky, Thank you and God Bless you from the bottom of my heart. I was very touched by your out pouring of love and generosity. I live in Zachary, Louisiana just 1 & 1/2 hours north of New Orleans. My mom now lives in Arkansas but was born in Hazard, Ky where her father was a coal miner. So knowing that a community that is not wealthy but gave so much to our people in need is truly a blessing. So once again Hazard, Thank you for you help. May God Bless each person who gave." Kim McCalister Stuckey, Zachary, Louisiana
---
"Just wanted to say that I applaud the efforts of the citizens of Hazard, Kentucky. I am a native Texan and did not know any of the people affected by Hurricane Katrina, however, I was moved to tears by the photos. The folks of Hazard didn't hesitate to share whatever they had to those in need. This is the foundation of what it means to be an American. May God bless you!" M. Wilson in Texas
---
"I have never been more PROUD of the town I grew up and still have family living in than I was Monday night when I was fortunate enough to catch Nightline and see what the wonderful people in Hazard have done and are planning to do again for the needy people devastated by the hurricane. You make me very proud to tell everyone I was born and raised in Hazard, Ky. Thank you." Joyce (Combs) Craig, Sturgis, KY
---
"I came to work today and was met by my fellow workers who were excited about the wonderful gesture of love and compassion demonstrated this weekend from my home town folks in Perry County. But you know, it did not surprise me at all. Anyone who has lived in Hazard and the surrounding communities, know the strains of poverty and those in need. When it comes to helping a neighbor, Kentuckians just do it because it is the right thing to do. Big Government, FEMA and the like, get out of the way. It doesn't take massive approval, planning and paperwork, it takes love, concern and action to save a life or provide comfort. Funny how overly educated people think and plan things to death. Then here comes one of the poorest counties in America using plain ole Horse sense, as my granddaddy use to say, and fed, clothed and comforted as many as they could with pure country love and compassion. Hillbilly love, Mountain love. Hey FEMA, Mr. Brown, ex-Arabian Horse Club manager, move to the other end of the Horse to get it to move if you want to get something done. If you can't figure it out, ask someone from Hazard, Kentucky. God Bless you for your kindness. I am so proud of everyone involved with this mission of hope. Well done!" Garland Hill, Pensacola Florida
---
"We need Kim Sparkman as the head of FEMA." Betty Swanson in Tennessee
---
"It blessed my heart to hear from my mom that My Aunt and My Uncle were drivers of one of those trucks. I am so proud to have a family that cares and to live in a nation that is so willing to give. I love you all and God Bless everyone in my hometown!" Miranda White, Carrollton, GA
---
"I saw a story on ABC about the wonderful things your town is doing for the people in Louisiana. I am from Pine Knott and am so proud to know that good Christians like yourselves are so generous." David Gayheart, Los Angeles, CA
---
"I happened to watch this Monday night on TV and I sat there and cried like a baby. You hear all the negative things about Hazard and the good things usually get overlooked...Its about time that they get recognized for just one of the many good things that come out of that area...Some of the best people come from Eastern Kentucky and you all showed that...Thank you!!" anonymous
---
"My wife and I were unable to do a lot however we bought three cases of water and took them to WSGS to go to Louisiana. I was so proud to see on ABCs Nightline Monday night that some family got that water. Thank God for people of Hazard. We always pitch in when and where it is needed." Kenneth Hall, Hazard, KY
---
"In the wake of this disaster, many people have been wondering, 'Why doesn't somebody DO something?' Well, you folks DID something, and you set an example for us all. Thank you for the inspiration!" Jennifer in Orlando, FL
---
"I am very proud of my old home town today. I just heard Nightline. We have a lot of people here that we are trying to help. This just shows Kentucky people are doing what God wanted them to do. If you have one loaf of bread, share it." Linda Thornton, Houston, TX
---
"I saw that Monday night on ABC. It is wonderful what WSGS and the community has done. For the first time in a long time our city and county did not look like we were from some third world county. This show truly showed us as we are, a county and city with plenty of good hearted citizens. I was very proud to be a small part of the giving and I am truly thankful for Kim from WSGS and Jay and Randy from the sheriff's department. I think these people need to be recognized after this is all over for their dedication. I know a couple of the people who went are not 'true Perry Countains', but they stood up and were proud to be from Hazard, Kentucky." Wilma
---
"I am so proud of the people in Perry County, makes me proud to be from that area. I was born and raised at Christopher. I left there in 1952 and moved to Dayton Ohio. I stayed there until 1998 and moved here in Spring City, Tennessee. I still bleed blue. Thanks to people like you, many of those who are displaced have a great opportunity to better themselves. I hope and pray that they will grasp the opportunity and and make a new life in some of the places where they have been moved to. Thank you for your generosity and hospitality towards those who are less fortunate than you are. God Bless you in all your endeavors. Proud to be from Hazard and proud to be an American. Thanks for the opportunity to express my concern." Gene Combs, Spring City, TN Go Wildcats
---
"Finally, something positive from Hazard. Did anyone catch Ted Koppell Monday night on Nightline or hear it on the radio this morning? Good job Hazard, Ky. They said we were the poorest region in this country and we still gave to the needy without the help of the government and would do so again. Not all Hazard/Perry County people are bad, We still have the heart. Our hearts do go out for those people in such bad predicaments and that's one way of letting them know. Thanks to Ted Koppel for telling the world." anonymous
---
"As my brother said to me a few months ago, who has traveled throughout the nation, it takes a whole lot to impress a country boy from Eastern Kentucky. Nothing else compares to the beauty that is here including our kindness we have for people in need." anonymous in Hazard
---
"I missed the broadcast of Nightline but listened to it on the radio. I am so glad that they actually put something positive about Hazard. My husband and I donated 2 cases of water, case of paper towels and tissue paper on those same trucks and we were proud to do it. My daughter also donated her piggy bank at her school donation box today. We are thinking about those in LA, MISS. and our thoughts and prayers go out to them." Robin McCaffrey, Hazard, KY
---
"I have been in Chicago for awhile now. I just want to thank WSGS for this site. It's really nice to be able to go on here and see what is going on in my hometown. Hazard has had it ups and downs with the news media but the portrayal of Hazard this week in the media is what Hazard is really all about. Family, friends and real southern hospitality. Its funny, five years ago we were looked down on by a nation. Now a whole nation is looking up to us. Way to go Hazard, keep up the good work." Taylor in Chicago
---
"Just wanted to say our people in that area is all about love and compassion. I grew up there and I remember the '57 flood and how everyone came together and helped one another. Wealth isn't what makes the world turn, it's folks like you all that get the job done. I have been gone from there for 42 years today, but I still visit my family and friends and I have always been proud of my roots. Yes, our little town gets a few black marks, but what town doesn't? Everyone there still has that love and a great big heart for anyone in need. I'm so proud for what was and is being done. GO HAZARD!!!!!!!!!!!!!! Love and good wishes are being sent your way from a lot of people." anonymous
---
"I am so proud of our people of Hazard and Perry County. I am very pleased that we in eastern Kentucky finally got some good press. The ABC segment shows the true spirit and kindness of us good ole mountain folks. Thanks to all who participated." R. Hall, Jeff, KY
---
Saw Nightline and wanted to say HATS OFF TO THE PEOPLE OF HAZARD KENTUCKY!" Wildwillie from Eastern Plains of Colorado
---
"Just want to say that I am proud to say that I am originally from Hazard Kentucky. Have always said the people there are the very best." Shirley in Arizona

---
"Through my pen-pal, Bobby Danner of Hazard, I have been made aware of the extremely kind and generous efforts of the community of Hazard, Kentucky towards the relief effort in New Orleans. I feel very proud to share the same name as such a wonderful town. Well done!" Alan Hazard, North Avoca, Australia
---
"Helping one another in a time of need is what this country was built on. We may not have a lot in Hazard, Ky. but what we do have we are glad to share." Genevia in Hazard, KY
---
"I am so proud of our little town. Finally, a story to depict the true spirit of Hazard, KY. How wonderful. Thanks to all those who gave and all those who will!" anonymous in Hazard
---
"I too was born in Hazard and still have plenty of family there and I am very proud of everyone for what they are doing. Hello to my Uncle Bob Danner." Danielle Danner, Brooksville, FL
---
"We are 'RICH. It may not be in money or wealth but in the blessings that God has given each and everyone of us!!!!" anonymous in Hazard
---
"I too was born and raised in and around Hazard, Ky. I was proud of what the people there did." Cornelious Allmond, Anderson, Indiana
---
"I was just reading an article on the net where people are going to be using vacant stores for shelter for the victims of Hurricane Katrina. I wonder if anyone has thought about using the old WalMart shopping center stores that are empty since the new store opened. I'm sure it would house several people and the Perry County school system could educate the displaced people and there's also HCC for the ones who are in college and vocational school. If people from our area are willing to send food and other supplies why couldn't we bring some of those people here for temporary housing and show them what real mountain hospitality is? Someone may have already thought of this idea, but if not Mayor Gorman might want to give it some thought. Thank you." Myrt
---
"I think this is a great idea!!! Use our empty store buildings as temporary shelter for the evacuees as they get back into school, work, and finding a new home here or elsewhere. I'm sure some people here would also love to take a few of them into their homes while they get back onto their feet." C. Dixon, Hazard, KY
Add your comments to this page