Home | News | Classifieds | Message Board | Hazard Kentucky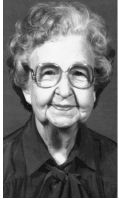 Grace Holliday Strong, 93, who served as Perry Circuit Court Clerk for 18 years, died on Monday at Saint Joseph Hospital in Lexington. She was first elected to the office in 1957 and was Vice President of the Kentucky Women's Republican Club.
Grace Strong was born on March 13, 1914, the daughter of Jim and Sadie Holliday and lived most of her life in Perry County, attending Vest Boarding School for one year, and Buckhorn Children's Home through high school. Her college days were spent at Morehead and Georgetown. She married Ryder Strong in 1937. Grace entered the teaching field in 1936 and taught first grade for 17 years in the Perry County School System.
Grace's family was long affiliated with politics. Her father, a former Perry County jailer, was killed while serving as a County Deputy. Her uncle, Tolbert Holliday was sheriff and her brother-in-law - Pearl Strong was a State Representative, State Senator and Magistrate, and her son - Bill Strong, served as State Representative and Minority Floor Leader of the Kentucky House.
Following Strong's term as Clerk, she and her husband, Ryder, along with their son, purchased a Clark County farm. There she lived for some 20 years and raised cattle, tobacco and owned thoroughbred horses.

Grace and Ryder were always special people here in Hazard. Grace ran a very good office in the courthouse. She always meant business there. I went to the Hazard Business and Professional Women' club where we had around 40 members. Grace was always interesting to talk to on many subjects--including politics! Bill, Libby, Pat and all members of the family, Joe and I sent our deepest sympathy. We have all been friends for many years and it is sad to see so many going on before us. Blessings to you all! Elizabeth Snyder Duncan, Hazard, KY
---
As Grace Strong's neighbor for many years, I had the pleasure of visiting with her daily. She was a wonderful Christian lady and we will all miss her dearly. My condolences to the family. Shirley Noble, Palm City FL
---
I worked as a Deputy Clerk with Grace for several years and learned so much from working with her and Jo Osborne. She was one person I can say wore a smile daily. She was a pleasure to work with and for. I remember what a strong Republican she was and her husband, Ryder, was as strong a Democrat, and during elections I would get such a kick out of listening to their little spats about what was what. I can truthfully say that Grace did all the good she could for all the people she could. That is one of the reasons she kept the office for 18 years. I know God met her with "Well done thy good and faithful servant". My heart goes out to Libby, Bill and her family. She was one gracious lady that loved from the heart." Ida Lee Hansel, Spartanburg, SC
---
As long as I knew Grace which is over 50 years, she conducted herself like a real lady. She was never too busy to talk to me. She treated everyone with respect. She was a wonderful lady and a credit to Perry County. She served Perry County well during her years in office. She was a good wife, a good mother, a good grandmother and a good servant to Perry County. She was a joy to know and an inspiration to many. It is good to know that I will see her again in Heaven. Carlene Shaclelford, Hazard, KY
---
Add your comments to this page