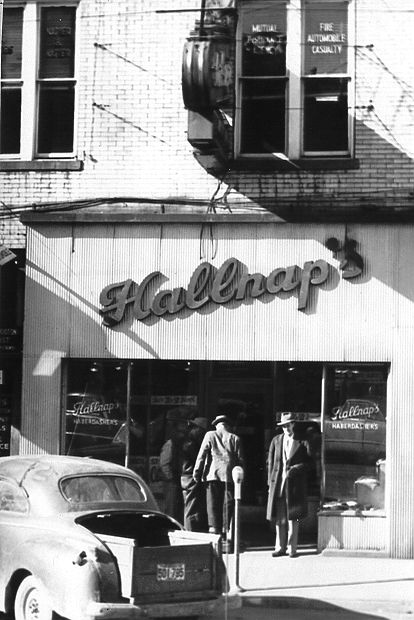 Floyd Hall, a well known Hazard businessman, was a fixture in Perry County for decades. Hall, 88, owned and operated Perry Furniture Company on High Street in Hazard since 1953. He died on June 3rd at the Hazard Hospital. Hall was born in Hyden, Kentucky in 1922, the son of William Floyd Hall and Sally Roberts Hall. Floyd was a member of the Hazard Christian Church, a past president of the Hazard Rotary Club, member of the chamber of commerce, member of the Hazard Masonic Lodge, and former Commander of the Hazard VFW. Hall was a World War II veteran, serving in the US Army, entering Africa in 1942. He served in France, and Germany as a sergeant. Around 1948 Floyd Hall and Pat Napier opened Hallnap's, a men's hat and clothing store on Main Street. The name of the business was created from the owners last names of Hall and Napier. Floyd Hall also worked at Citizens State Bank and Peoples Bank in Hazard.
Survivors include his wife - Aileen Couch Hall of Hazard, one son - Bill of Hazard, one daughter - Nancy Sallie Nolasco of Lexington, five grandchildren - Jack Duff, Sherri Duff, Whitney Newberry, Wesley Hall and Dawn Aileen Hall, two great grandchildren - Kristin Duff and Jackson Trent Duff.
The funeral for Floyd Hall was held on Friday at the Engle Walker Perry County Chapel on Morton Boulevard in Hazard. Military rites were performed by the D.A.V. Chapter 64. Burial took place in the Camp Nelson Cemetery in Nicholasville, KY.
Honorary pallbearers were George Kawaja, Bill Gorman, Pete Gullett, Bruce Muncy, Jack Couch, Joe Pat Couch, Joe Nolasco, Paul Douglas Campbell and Jack Duff.
Listen to WSGS NEWS

Our thoughts and prayers go out to all the family of such a wonderful man. My twin sister (Penny) and I was raised by our grandparents, and I remember going back many years ago, how he treated our family with such goodness and kindness. Patti Combs-Brashear, Viper, KY