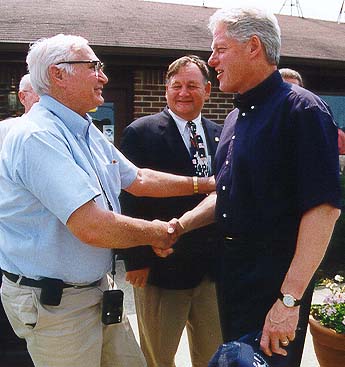 Mention a friendly face in Hazard, Kentucky and many of us will think of Charlie Hammonds, 76, who died on October 2nd at his home in Lothair after a long struggle with cancer.
If there ever was a people person Ė it was Charlie. You could almost see his smile by listening to his voice.
Charlie Hammonds spent over 22 years as a Hazard City Commissioner. He owned and operated a number of gas stations, including
Hammonds' Shell
, which was located on the spot now occupied by the Hazard Shell Mart on East Main Street.
Hammonds
held a seat on the Board of Governors of ARH and the Bluegrass State Skills Board. He helped establish the Perry County Ambulance Service, and was on its Board of Directors, and was involved in The Renaissance Committee, a downtown revitalization project. For many years, Hammonds was a special assistant to the Mayor.
He was originally from icco but lived most of his life in the Lothair section of Hazard.
He worked for WSGS and WKIC for a short time in the late 1960ís where he sold radio advertising.
How many times have we interviewed Charlie on WSGS during the past 50 years during local floods and severe weather?
A lot.
He always came to the aid of others in a time of disaster, and they didnít have to be in East Kentucky.
He spearheaded a relief project for residents of Fort Wayne Indiana when that city was flooded.
And thatís just a drop in the bucket to what he did for others.
Even when Charlie was too sick to help, he offered his support during the recent Katrina Relief effort in Hazard.
It really hurt him that he wasnít able to travel to the Gulf Coast region because that was the kind of thing he always did.
But many times it was Charlie himself that suffered losses during floods in Hazard.
His home was destroyed in 1957, but he stayed positive and he never forgot that there was always someone else worse off than him. If we wanted to know what the river would do next, during heavy rains, we would ask Charlie.
During the 1977 flood in Hazard he was interviewed by
Time Magazine
about the local disaster.
Survivors include his wife - Bonnie, two sons - Bob of Versailles, KY and Tom of Hazard, one sister - Cleta Gray of Lexington and five grandchildren.
---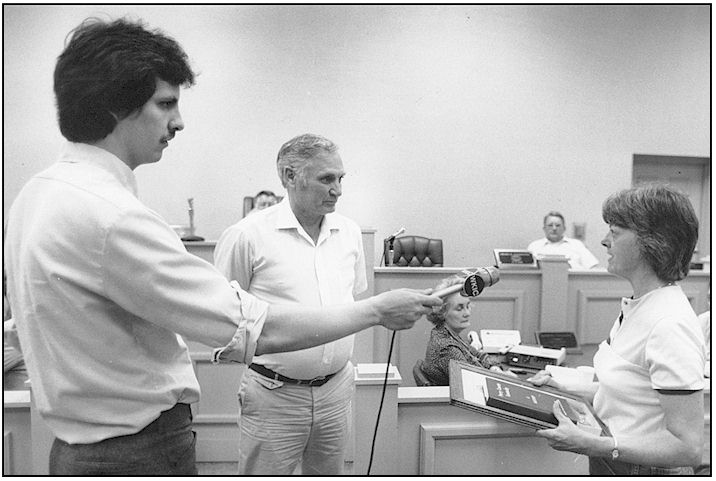 Hammonds, center, was recognized by an official from Fort Wayne, Indiana for his efforts in heading a project to deliver food and clothing to flood victims in 1982. Two years later, in 1984, when Hazard was flooded, Fort Wayne residents returned the favor. The story made national news when Paul Harvey covered the story.

Charlie was a true gentleman who always helped in any project that involved people. He loved the city of Hazard and anything connected with it. He was very helpful with the Liberty High project and Cornett reunion. His word was bond. Kenneth Combs, Warrensville Heights, Ohio
To the Hammonds family, We offer our sincere condolences. Charlie was a very special person and was loved by the people of Hazard. He will be truly missed. Our love and prayers are with you. Jimmy & Judy Lindon, Hazard, KY
Charlie was a wonderful man and will be greatly missed by many. He was always kind to me and had a smile for everyone. My prayers go out to Bonnie and the family. Heather (McGlaughlin) Batey, Birmingham, AL
Charlie was a great man who truly loved Hazard and the people here. He loved his BULLDOGS and you could always count on him being at all the ballgames...cheering on the Dawgs and taking pictures. He will be greatly missed. Jeff in Hazard
I first met Charlie our freshmen year at Eastern State College and we were great friends in our college years. Since then, we rarely saw each other except at Hazard High School State sporting events. Charlie was a great person, friend and always there for you. I'll certainly miss him. Bonnie and the family are in my prayers. Mr. Shirley Kearns, Richmond, KY
Charlie was a true friend. Whenever I needed help with something all I had to do was call Charlie. I love Bonnie and Charlie and
miss seeing them around the area. God Bless you Bonnie, Bob, Jennie, and the rest of the family. Cora Hamilton, Hazard, KY
What a good man. Always said hello to me and didn't even know my name. I saw him just about every time I was in Hazard. Always had that smile. anonymous
Charlie's Angels (HHS Cheerleaders) will always have a special place in their hearts for Charlie. He was their #! fan and will be deeply missed. Janet in Hazard, KY
How sad I am today. The world has lost a very, very nice person. My deepest sympathy to Bonnie and sons at this difficult time. Jane Gregory Harris, San Diego, CA
Charlie and I served on the Hazard City Commission for many years. I can honestly say that he was truly interested in people and what they needed and wanted. He was the Community Developer and was always seeking to bring new things to Hazard. He and Mayor Gorman truly went after huge things and managed to succeed. I will miss seeing that smiling face on the streets of Hazard. Joe and I want Bonnie, Tom, Bob, and their wives and families to know that we are thinking of you and praying for you. Elizabeth S. Duncan, Hazard, KY
Charlie always had a big smile on his face. Hazard and Perry County will miss this fine man. We will all miss you Charlie! Mike and Vicki Sammons, Hazard, KY
Charlie will be greatly missed by all the people in Hazard and surrounding area. He always had a smile on his face. My heart goes out to his family/ r.i.p. CHARLIE. Glenda Hollins, Hazard, KY
I only knew Charlie from around in Hazard but every time I saw him he had a smile on his face and he always spoke to you. My heart goes out to his family, may he rest in peace Vanessa in Hazard, KY
I went to school with Tom and knew Charlie for a long time. The "kids" rode in the back of Charlie's truck to help him campaign for Mayor. Everyone will greatly miss Charlie. The family is in our prayers. Charles Stamper, Little Rock, AR
He was loved by all and will be missed by all. Mary Wilson/Craft, Gate City, VA
Charlie was a great guy who would never steer you wrong. Many will miss him including myself. I worked for Charlie back in the early 1980s. I worked with Tom, Big Al, Jack, Charlie and Bonnie. We went through the flood, hauling people around in his old Chevy wrecker he had. Wishing the family well. Ed Everidge, Dearborn, MI
Charlie and Bonnie have always been so good to me. Wanda Neace Morgan
He was a great man he will be missed. Bobby in Hazard, KY