Home | News | East KY Board | Classifieds |
Cawood Ledford died 20 years ago today
---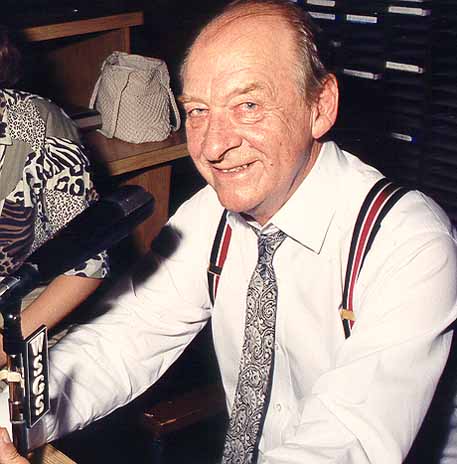 Can it be? Cawood Ledford, the voice of the Kentucky Wildcats on WSGS, died 20 years ago today. He spent 39 years calling UK basketball and football games on radio. He passed away at age 75 on September 5, 2001.
Ledford described Kentucky sports for nearly four decades. He worked 17 NCAA Final Fours, including Kentucky's national championship seasons in 1958 and 1978.
He was inducted into the Kentucky Athletic Hall of Fame in 1987 and is one of only a handful of non-players to have a jersey hanging from the rafters at Rupp Arena.
"He was so good at what he did as far as just bringing the games to life for his listeners," said Tom Leach, who is now the voice of the UK sports on the radio. "He was as much a part of Kentucky basketball and its storied history than any of the coaches or players."
The son of a coal miner, Ledford grew up in Harlan and served in the Marines during World War II. He earned a degree from Centre College in Danville and taught high school English.
He began calling Kentucky football and basketball games in 1953. He retired after the 1991-92 basketball season.
"Cawood meant as much to fans of Kentucky football and basketball as anyone ever has," said Wildcats basketball coach Tubby Smith.
In 1979, Ledford traveled to Hazard to appear on "Talkback," WSGS's long running radio call-in talk show. He returned as a guest in 1986. He was the featured speaker at Hazard Civic Night in 1981. He made his last trip to Hazard in 1999 when President Clinton came to town. Ledford served as one of the speakers, and introduced the President to the crowd. "I was thinking that if Cawood had been a political announcer instead of a basketball announcer, and I could have kept him with me these last 25 years, I'd have never lost an election," Clinton said.

My favorite memory of Cawood was listening to UK football games on the radio. "Touchdown Kentucky Look for the flags Ralph." David Tolliver
I can remember Ralph Hacker saying that Robert Lock was playing like a sissy and Cawood saying that he was thinking of a little stronger word. Me and my buddy would go get a big bucket of french fries and park my car by the grocery store because that's where we could get the Cat's on my radio. There are a lot of people from the Hazard area who live up here and we all love the Cat's Chuck Adkins, Fairborn OH
I listened to Cawood growing up in Black Mountain Ky, (Kenvir), then in the Army in various places during the Korean War, and then at EKU in Richmond, and finally here in Tennessee. My favorite thing is the free throws that bounced on the rim and finally went in. Cawood would say, " It had a lot of metal on it but it's Good!" Bill Van Pelt, Clinton, TN
I remember one of the first games of the new season after winning the '78 championship. I think the Cats were playing Northwestern. Ralph Hacker was talking about the newspapers writing about how the Cats played so rough, like mobsters or something like that. Hacker was implying, I think, that the newspaper articles were trying to condition the referees for the game that night. And as only Cawood could do, he responded by saying something like, "yeah, the Cats may be accused of playing rough and dirty, but those who said that watched as Robey, Phillips and the rest of the team walked up to accept the national trophy." I loved watching the game on TV with the audio off and listen to Cawood on the radio. He called it just like it was! God Bless his family! Gary in Winter Haven, FL.
I grew up in Campbellsville, Ky and used to listen to UK games as much as possible because now that I think about it, Cawood Ledford helped set a high standard for how college basketball was broadcast. His play-by-play probably has yet to be matched. He knew just when to pause so that the listener could hear the crowd during timeouts...then you could hear the horn blow for play to resume and he would reset everything for you and take it from there. I have never really been a UK fan, but UK was even greater because they had Cawood. Wallace Williams, St.Croix, Virgin Islands
I started to listening to the Wildcats in 1958 when they won the NCAA championship by beating Seattle and the great Elgin Baylor. I lived in the mountains of eastern Kentucky and it was hard to pick up the games on the radio especially if it was raining on Saturday night. In the early 1960's when my wife and I were dating, on Saturday nights I used to drive around for two hours listening to the Cats play and to Cawood call the game. I remember he used to use the phrase, "he bobs and weaves up the court". My girlfriend, later my wife, thought "bobs" and "weaves" were players. After about four years, she asked me when they were going to graduate. We still laugh about that. Gerald Hunt, Dayton, OH
I was introduced to the Cats in 1977 by my future wife. I can remember how funny I felt when we gathered in Mt. Sterling for one of her family events and the whole family sat in front of the TV with no sound, and turned the up the radio. After a very short while I came to relish the sound of Cawood Ledford. We moved to Burlington where I attended Xavier University - one of those go to school all weekend deals - I can remember racing out of class one Saturday, exhausted, but wanting to tune into the Cats. Driving down I-75 there was Cawood, "Pass to Shidler from 20 - BANG!" Or, "They're playin' string music in Lexington, Kentucky!" Throughout the years we transferred to Cleveland, Massachusetts, Florida, and now Virginia. On those cold clear nights I would tune in and strain to hear Cawood calling the Cats. Thank you Cawood - Kentuckians are the best people in the world - I remember so many people so fondly, and you were the best! Dan in Richmond, VA
When I started listening to Kentucky, Cawood and Claude Sullivan were the announcers. After Claude passed away, naturally Cawood became the main man. I remember the upset of Ohio State in 1960 that was comprised of Jerry Lucas, John Havlicheck? and Bob Knight. What I remember more than any other thing about Cawood were the Ronnie Lyons games when Cawood would say, "Heerre comes the little man..he's in a hurry........ Ken Grizzle, Ashland, KY
As a kid growing up in Cumberland, Kentucky, 20 miles from Harlan, I spent many an hour listening to Cawood Ledford. At the moment I am sitting here listening to the Wildcats play Florida Atlantic. As I am listening to the play by play I can transpose Cawood's voice over the a announcers. I can still hear his voice, his inflections, his excitement, his love for the Kentucky Wildcats. His superb voice and style are forever ingrained in my memory. How we miss him. I share a couple of things in common with Cawood. I started my 40 plus years in broadcasting at WHLN in Harlan (1966). Also there are Cawood's in my family tree. I have no idea if we are related. If God needs a play by play man in Heaven I am sure Cawood will get the call. Cawood Ledford....rest in peace. Carl Hogg, Wheeling, WV
In the Cawood years, I didn't know who was calling the game on TV. We always had Cawood on the radio and watched it on TV. What a gentleman he was. He did a autograph on a script pad and titled it to Granny Glynna. Thanks Cawood. Glynna Richie, Hardburly, KY
In the 6th grade my teach was named Hatton - Vern Hatton's Aunt. She told me to listen to the game that night and low and behold it was the most exhilarating experience a young boy could have. I felt like I was there, I could see the players, every move in my mine, I couldn't wait till the next game. I had to sneak my little transistor radio in bed to listen to the games. Once I fell out of bed so excited when Vern hit a winning goal. I was cheering and my mother came in and asked what was the matter. I told her I just had a nightmare - didn't want her to take away Cawood and the Wildcats. I miss the dark bedroom where a man could paint a picture and dreams by just talking. There will never be another one like him!!! Mike Berry, Louisville, KY
It should be mentioned that in addition to broadcasting University of Kentucky football and basketball games for many years, Cawood also did the play-by-play of other games on WHAS; like Eastern Kentucky against Western Kentucky. When the station covered every game of the boys state basketball tournament, he was at the microphone for some of those. He also did horse racing. In later years, Cawood did the play-by-play of the NCAA Finals on the CBS Radio Network. As far as U. K. basketball goes, it was Adolph Rupp who made it into the nationally-known product that it became and it was Cawood Ledford - through his play-by-play description on radio - who brought that product to the countless Wildcats fans and other basketball followers. John Perin,
Cincinnati, OH
I remember listening to Cawood from about 1986-1992. I'm totally blind so, he really brought the games to life for me. It is because of Cawood Ledford, and later Ralph Hacker and Now Tom and Mike that I understand the game of basketball. Matthew Sorrell, Falmouth KY
In the early '80's I was principal owner of WSTL in Eminence, KY. As WHAS was the powerhouse in our market we could not carry Wildcat games. However Mr. Ledford (I cannot call him by his first name out of extremely high respect) had a five minute daily commentary, which we aired. One day this young and inexperienced broadcaster called him and asked for the favor of doing a promotion "voicer" for his show and a station break. He couldn't have been nicer, making me feel so comfortable, as if I were an old friend. In couple of dayas i received a number of promos and station ID's. That sure gave a very small market station the big city professional sound. He was a true gentleman that I shall always be greatful. And, yes, I did listen to the competition to hear his rich descriptions of UK. Thank you, Mr. Ledford, Minneapolis, MN
I do have a question regarding one of his quotes during a game several years ago. I don't recall what game it was or what happened just prior to the quote, but out of nowhere Cawood quipped "If I have just one hour to live, put me in Bowling Green and let Western (KY) run the clock!" Any idea what game or incident he was making reference to? I'm stumped on this one! Wayne Jenkins, East Nashville, TN
I grew up listening to Cawood Ledford through the 1970's. My father was a UK graduate and huge Cats fan. Anytime we would be driving somewhere on a game night (and winter nights in Western North Carolina are usually very cold) the car radio would be on as Dad strained to hear Cawood's every word. When we would get home the radio in the living room (or perhaps my bedroom) would have to be turned on so we could see how the game turned out. This was before ESPN and getting a UK game on TV here on a weeknight just never happened. We never imagined then that we ever would see a weeknight UK game televised. Why should we? Listening to Cawood was every bit as good because through his descriptions we saw every minute of all those games we never watched. David in Mars Hill, NC
Some of my best memories are listening to Cawood talk about the Cats going left to right on your radio dial. I can still hear him talking about a player weaving and bobbing down the court. I can hear him say he missed a bunny. I listened to the games with my dad and later with my son, both have passed away now. I like to think that Cawood is sitting up in Heaven calling the games just like he used to and my Dad and my son and God are all hanging on every word. Cawood says and of course cheering for the Cats. Happy Birthday Cawood." Mike Taylor, North Vernon, IN
"As many many others, I was raised as a turn down the TV, turn up the radio, we're listening to Cawood, Wildcat fan. But one of my favoite memories of Cawood was as a teenager in the early '80's living in Corbin, KY and there was a new burger place in town called Wendy's that was located right off of 25E, the route which Cawood would take as he returned to his native Harlan County. Upon locating a seat I glanced at the table which sat at an angle to my right and there sat the man who was a legend in my home. I immediately began to point out to my friends the celebrity in our midst. In my exuberance, and as it turned out a bit louder than I had intended, I began to ask the others at my table if I dare go and say something. As I turned to take one more glance, his eyes caught mine and he gently waved his hand motioning me to come to him as he mouthed 'It's OK'. He had obviously over heard my conversation. I will never forget how gracious and genuine he was that afternoon, and it left an impression that has stuck with me more that 20 years later. Seth Mitchell, Corbin, KY
I would like to take this time to say thank you. I'm a distant relative of Cawood but he and my grandfather were very close. When these pages or threads pop up I print them off and send them to my grandfather. He always enjoys it because he knows how much the University of Kentucky meant to him. Thanks to you all and as always Go Big Blue. Spencer in Knoxville, TN
"Hello everybody, this is Cawood Ledford, coming to you tonight from Memorial Coliseum on the campus of the University of Kentucky in Lexington as the mighty Wildcats get set to take on the......" As a youngster, watching the Cats on the radio & hearing the smooth, velvety voice of Cawood speak these words, it always ran a chill down my spine. Yes, I said watch, for Cawood could paint a very vivid picture of the game with his play-by-play. He was absolutely the greatest. We miss you Cawood. Larry Jones, Indianapolis. IN
Many, many memories of Mr. Cawood, but my favorite (I believe) was in person when Cawood's Court at Rupp Arena was dedicated and Richie Farmer spoke about people from the mountains having heroes, but he said, Cawood was my hero. Montie Edwards, Utica, KY
IU pounded UK - 98-74 in December 1975. UK then beat IU in the NCAA tournament that year and Bobby Knight smacked Joe Hall on back on the head. After the game Cawood referred back to the December beating. I can't remember what all he said but I do remember him saying Coach Hall didn't give a damn about that December game now. That was great. Cawood was the best of the best. Larry Probus, Rosine, KY
1984 Letter from Cawood Ledford Fan
(March 1984) We are Kentuckians and Big Blue fans living in the heart of Big Orange country who for years have tried to listen to U.K. Basketball games on WHAS. What a frustrating experience that has been! Besides - we couldn't pick up the afternoon games because of interference from a Knoxville station. When basketball season began, we purchased a powerful radio hoping to pick up WHAS more clearly. And that's when we discovered WSGS! You came in as clear as a bell and rarely do you fade. It has been a joyous season for us because for the first time in 15 years Cawood comes in clearly. We belong to the U.K. Alumni association here and have told many fellow alumni of our 'discovery.' So you probably have quite a listening audience in Knoxville. Thanks for being on the air and for bringing so much pleasure to displeased Kentuckians. Suzie and Harold Johnson, Knoxville, TN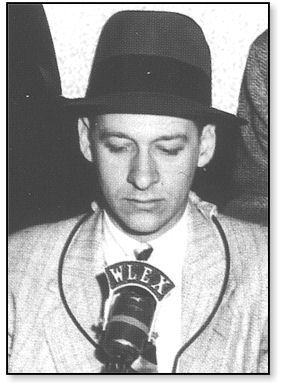 Growing up in Eastern Kentucky

Cawood Ledford was born April 24, 1926, at Cawood, a small community 10 miles south of Harlan that is named, as he was, for his mother's family. The family homeplace is called Booger Hollow. His Harlan county property was part of a 2,000-acre grant that an ancestor, Berry Cawood, received in lieu of pay for service in the Revolutionary War. His parents were teachers. His father and another man owned small truck mines. Ledford graduated from Hall High School, served in the Marine Corps during World War II, and graduated from Centre College in 1949, with a major in business and minors in history and Spanish. His first job was working in the office of a bakery in Harlan. After college he taught high school English in Harlan for several months. Cawood got his start in broadcasting at WHLN in Harlan in 1951. He did sports broadcasts and sold ads for the station. For two summers he broadcast the games of the old Harlan Smokies, a Class D baseball team in the Mountain States League. He also broadcast high school games. Ledford maintained ties with Eastern Kentucky throughout his life. He and a boyhood friend owned department and clothing stores in Barbourville, London and Middlesboro. He returned to his boyhood home in Harlan County in 1993 after remodeling the house where he grew up. He said he rejected at least one serious effort to get him to run for a local political office.
In Eastern Kentucky, where Ledford was born and reared, there was a special relationship with a man who had left the mountains and shown the world that people from Appalachia could succeed. ''I was just proud of Cawood,'' said Herbie Deskins, a Pikeville lawyer and former state representative. ''People could listen to him and know that someone from Eastern Kentucky could go out and know more about something than anyone else and do a better job than anyone else. We'd sit around the fire, pop popcorn and listen to Cawood,'' Deskins said. ''That voice, it was just sort of a calming voice. It demanded your attention and yet was calming. He would explain things and discuss it in a way that we could understand. He could paint a picture with words. It was just a pleasure to listen to him and his comments.'' David Allen grew up in Prestonsburg listening to Ledford's call, which often was piped through the house on an intercom system. Now a professor of pharmaceutical sciences at Texas Tech, he said Ledford is irreplaceable.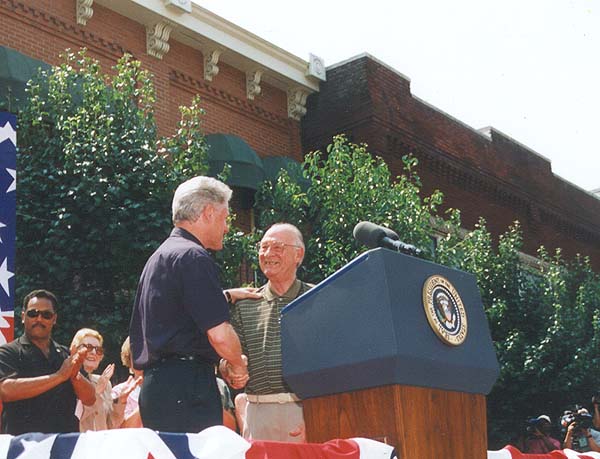 President Clinton is introduced by Cawood Ledford in Hazard on July 5, 1999.